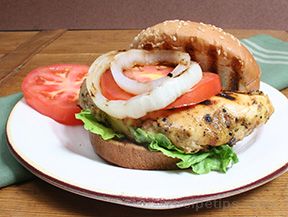 Directions
In a medium glass mixing bowl, combine all of the ingredients (except the chicken breasts and the buns); blend well.
Place the chicken breasts in the marinade, cover, and refrigerate for 4 hours or overnight.
Heat the grill to medium. Coat the grill grates with vegetable oil.
Remove the chicken from the marinade and place on grill; discard marinade. Grill for about 10 - 12 minutes, turn once; then grill the other side for another 10 minutes or until the juices run clear.
Lightly butter the buns; then place them on the grill for about 1 minute or until lightly toasted.
Place the chicken breast on the bun, garnish with your favorite vegetables and condiments, and serve.
Prep Time: 10 minutes
Cook Time: 20 minutes
Container: medium glass mixing bowl
Servings: 4


Ingredients
-
4 chicken breasts, skinless, boneless
-
4 tablespoons onions, minced
-
2 shallots, minced
-
1 clove garlic, minced
-
2 teaspoons cilantro, dried
-
2 teaspoons parsley, dried
-
3 tablespoons crushed black peppercorns
-
1 tablespoon oregano, dried
-
1/2 cup vegetable oil
-
1/2 cup white vinegar
-
1 teaspoon salt
-
4 hamburger buns