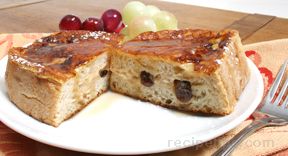 Directions
FILLING:
Mix the cream cheese with brown sugar, white sugar, raisins, cinnamon, almond extract and apple pie filling until completely combined.

TOAST:
Cut the loaf of bread into 6-8 one inch thick slices.
Slice down the center of each slice to approximately 1/4 inch to the end. Do not cut all the way through the bread. This will create a pocket for the filling.
Fill each pocket with cream cheese mixture, approximately 1/4 cup. It is alright if it leaks out the edges a little.
In a shallow dish, mix together the milk, eggs, vanilla and cinnamon until well blended.
Dip each filled bread slice in the egg mixture, coating both sides.
Place on a hot griddle, cook 3-5 minutes on 1 side until nicely browned and then turn and grill the second side.
Keep warm in the oven.

SYRUP:
In a small sauce pan, heat together the maple syrup, honey and butter.
Serve over the warm french toast.
Prep Time: 20 minutes
Cook Time: 10 minutes
Container: medium mixing bowl, griddle, shallow dish
Servings: 6


Ingredients
-
FILLING:
-
8 ounces cream cheese
-
1 tablespoon brown sugar
-
1 tablespoon white sugar
-
1/2 teaspoon almond extract
-
1 teaspoon cinnamon
-
1/2 cup raisins
-
3/4 of a 20 oz. can of apple pie filling
-
TOAST:
-
1 loaf of peasant bread or bread of choice
-
1 cup milk
-
2 eggs
-
1 teaspoon vanilla
-
1 teaspoon cinnamon
-
SYRUP:
-
1/2 cup maple syrup
-
1/2 cup honey
-
2 tablespoons butter