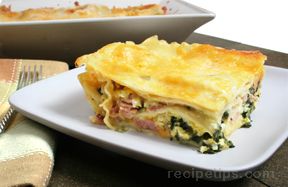 Directions
In a skillet, melt butter over medium heat.
Whisk in flour, salt and pepper.
Gradually pour in milk, whisking continuously.
Stir until thickened.
Remove from heat, stir in onions, lemon juice, hot pepper sauce and 1/2 cup parmesan cheese.
Cook noodles according to the package directions.
Cool on paper towels.
Spread 1/4 of the sauce on the bottom of a greased bakind dish.
Lay 3 noodles on top of the sauce, then half of the ham, half of the spinach, 1/4 cup of parmesan cheese, 1 cup of cheddar cheese, half of the eggs then anouther 1/4 of the sauce.
Repeat layers and top with the last 3 noodles, white sauce and cheese.
Bake uncovered at 350° for 40-45 minutes or until bubbly.
Let stand 15 minutes before serving.
Prep Time: 20 minutes
Cook Time: 40 minutes
Container: 9 x13 pan, pasta pot and skillet
Servings: 12


Ingredients
-
1/2 cup butter
-
1/3 cup flour
-
1/4 teaspoon salt
-
black pepper, to taste
-
3 cups milk
-
1/4 cup green onion - chopped
-
1 teaspoon lemon juice
-
1/4 teaspoon hot pepper sauce
-
1/2 cup parmesan cheese
-
9 lasagna noodles - cooked and drained
-
2 cups ham - fully cooked and diced
-
1/2 cup grated parmesan cheese - divided
-
3 cups colby jack cheese - shredded
-
4 hard boiled eggs - finely chopped