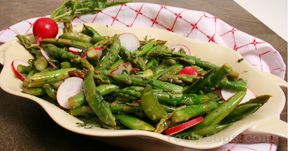 Directions
Bring a large pot of salted water to a boil.
Add asparagus to the pot, boil until crisp/tender, approximately 3-4 minutes.
Remove and plunge in a bowl of ice water.
Cool completely and drain on a paper towel.
In a skillet, heat butter over medium heat.
Add asparagus, snap peas and the juice of one lemon.
Cook, stirring occassionally, until the vegetables are heated through, 5-7 minutes.
Remove from heat, stir in radishes and tarragon.
Season with salt and pepper.
Serve warm.
Recipe doubles easily.
Prep Time: 10 minutes
Cook Time: 15 minutes
Container: pot, large bowl and skillet
Servings: 8


Ingredients
-
1 pound asparagus - cut into 2 inch pieces
-
2 tablespoons butter or margarine
-
1 package (8 oz.) snap peas
-
1 bunch radishes - greens discarded, sliced thin
-
1/2 lemon - juiced, approximately 3 tablespoons
-
1/3 cup fresh tarragon - chopped
-
1/4 cup toasted sesame seeds - optional