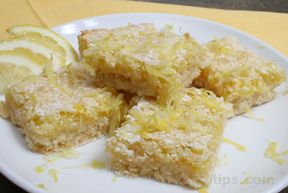 Directions
Heat oven to 350°.
In a large bowl, combine flour and powdered sugar.
Cut in margarine until the mixture is crumbly using a pastry blender or fork.
Press flour mixture into an ungreased 9x9 pan.
Bake for 15 minutes.
In the same bowl, beat eggs and sugar with a wire whisk until light colored.
Stir in remaining ingredients.
Pour egg mixture over the partially baked crust. The crust does not have to be cooled.
Return to the oven and bake another 20-25 minutes or until light golden brown.
Cool completely.
Sprinkle with powdered sugar and more grated lemon peel if desired.
Prep Time: 15 minutes
Cook Time: 25 minutes
Servings: 24


Ingredients
-
1 cup all purpose flour
-
1/4 cup powdered sugar
-
1/2 cup margarine or butter
-
2 eggs
-
1 cup sugar
-
2 tablespoons flour
-
1 tablespoon grated lemon peel
-
1/2 teaspoon baking powder
-
2 tablespoons lemon juice or 1/2 fresh squeezed lemon