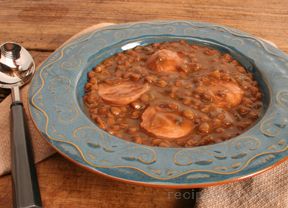 Directions
Choosing a pork sausage such as bauerwurst or blutwurst, this soup becomes similar to a pork and beans casserole with a lighter, soupy texture. Any traditional pork weiner or sausage may be used.
Select any brand of lentil soup and a stick sausage.
Empty contents of canned soup into a container for heating, either in microwave or on stovetop.
Heat soup until ready to serve.
Using a sharp knife, cut sausage into medium thin slices.
Add sausage slices to soup.
Season soup with any spices or seasonings desired, such as herbs, salt and pepper.
Serve hot.
Prep Time: 10 minutes
Cook Time: 5 minutes
Container: soup bowl
Servings: 2
Serving Size: 9 ounces


Ingredients
-
18 ounces lentil soup, ready to serve
-
sausage such as a blutwurst
-
salt and pepper to taste