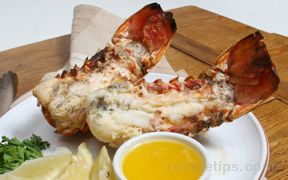 Directions
Using a kitchen shears, cut down the center of the underside of the tail to expose the meat.
Peel away the tail cartilage from the underside to leave the meat exposed.
Preheat the grill to medium heat.
Melt 2 tablespoons of butter and add the juice from 1/2 of a fresh lemon.
Brush the butter and lemon mixture over the exposed meat in the tail.
Place the tails on the grill, meat side down.
Cook for approximately 10 minutes, watching closely.
Flip the tails and cook 3-5 more minutes on the shell side.
The tails will curl when they are done. Remove from the grill and serve with sliced lemon and melted butter for dipping.
Prep Time: 10 minutes
Cook Time: 15 minutes
Servings: 4


Ingredients
-
4 lobster tails - shell on
-
2 tablespoons butter or margarine - melted, more for dipping
-
1/2 lemon - juiced