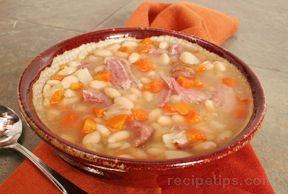 Directions
Soak beans overnight in salt water, drain.
In bottom of stock pot, add oil and sauté onions and garlic over medium heat until softened (about 4 to 5 minutes).
Remove from heat.
Add remaining vegetables, seasonings, ham shank, drained beans, and chicken stock or broth.
Bring to a boil. Reduce heat to simmer, cover and cook 1 1/2 hours.
Remove ham shank from soup. Allow ham shank to cool slightly. Remove meat from bone. Discard bones, fat, and skin. Add meat to soup.
Continue cooking on simmer for an additional 30 to 45 minutes or until beans are soft.
Prep Time: 30 minutes
Cook Time: 1.5 hours
Container: large heavy stock pot
Servings: 8
Serving Size: 12 ounces


Ingredients
-
16 ounces dried Great Northern beans
-
1 cup diced sweet yellow onion
-
3 cloves garlic, diced
-
1 tablespoon oil
-
1 1/2 quarts chicken broth or stock
-
2 bay leaves
-
2 cups peeled and diced potatoes
-
2 stalks celery, diced
-
3 carrots, peeled and diced
-
1 1/2 pounds to 2 1/2 pound ham shank
-
1/4 teaspoon black ground pepper
-
1 teaspoon salt
-
1/4 teaspoon ground cumin