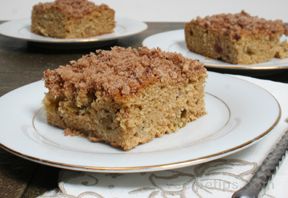 Directions
TOPPING:
Mix the white sugar, nuts, cinnamon, and melted margarine together.
Set mixture aside to use later.
CAKE:
Grease and flour a 9" x 13" x 2" cake pan. Preheat the oven to 350° F.
In a large mixing bowl, beat the shortening, margarine, brown sugar, and egg together with an electric mixer until light and creamy.
Add the soda, salt, 1/2 the flour and 1/2 the sour cream. Mix until blended and then add the remaining flour and sour cream. Mix again until well blended
Add the rhubarb and stir until well distributed.
Pour batter into the cake pan and spread evenly.
Sprinkle the topping evenly over the top of the cake.
Place in the preheated oven and bake for 45 minutes or until a toothpick poked in the middle of the cake comes out clean.
Prep Time: 1 hour
Cook Time: 45 minutes
Container: 9
Servings: 15
Serving Size: 1 piece


Ingredients
-
TOPPING:
-
1/2 cup white sugar
-
1/3 cup chopped pecans
-
1 teaspoon cinnamon
-
1 tablespoon margarine, melted
-
CAKE:
-
1/4 cup shortening
-
1/4 cup margarine
-
1 1/2 cups brown sugar
-
1 egg
-
1 teaspoon baking soda
-
1/2 teaspoon salt
-
2 cups flour
-
1 cup sour cream, regular or light
-
1 1/2 cups diced rhubarb