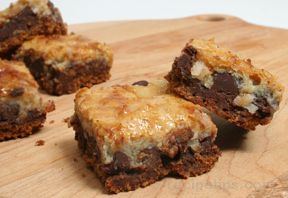 Directions
Chop candy bars into small pieces in a food processor.
Pour into a medium bowl and add the graham crackers.
Add melted butter and stir to combine.
Line a 9x13 baking pan with foil, leaving the ends hanging over to use as handles.
Spray generously with non stick cooking spray.
Press graham cracker mixture into the bottom of the pan.
Place in a 350° pre-heated oven and bake for 10 minutes.
Remove from oven and sprinkle with 1 cup of the chocolate chips.
Allow to melt and then spread evenly over the crust.
Sprinkle with rice crispies, peanuts, coconut and the remaining chocolate chips.
Combine the condensed milk and vanilla and pour over everything.
Put back in the oven for 30 minutes or until golden brown.
Remove from oven and allow to completely cool on a wire rack.
Remove from pan with foil handles and cut into small bars.
Prep Time: 10 minutes
Cook Time: 40 minutes
Container: food processor, mixing bowl, 9x13 baking pan
Servings: 45


Ingredients
-
3 butter toffee candy bars
-
1 1/2 cups graham cracker crumbs
-
1 stick butter - melted
-
1 bag semi-sweet chocolate chips
-
1 1/2 cups rice crispies cereal
-
1 cup peanuts - chopped fine
-
1 1/2 cups coconut
-
2 cans (14 oz.) sweetened condensed milk
-
2 tablespoons vanilla extract