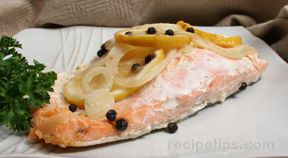 Directions
Preheat oven to 350° or grill with medium low fire.
Oil pieces of aluminum foil large enough to place salmon fillet on and fold up the sides to create a pouch.
Place salmon on foil, skin side down.
Drizzle remaining olive oil over top of fillets.
Arrange lemon slices, onion slices, bay leaf and peppercorns on and around the fish, even underneath if you like.
Drizzle with cream.
Bring long edges of foil up and over the top of the fish along with the sides, roll or fold down, leaving space for steam to escape at the top.
Make sure the ends are sealed so juices don't leak.
Place directly on oven rack or grill.
Bake or grill salmon until it flakes with a fork (40-45 minutes) or longer if fillets are thicker.
To serve, remove bay leaf and garnish with lemon quarters and chopped parsley.
Prep Time: 15 minutes
Cook Time: 45 minutes
Container: aluminum foil
Servings: 6


Ingredients
-
1/4 cup olive oil
-
6 salmon fillets - or one side of whole salmon
-
2 lemons, sliced, plus 1 lemon quartered for garnish
-
1 medium onion - sliced
-
6 bay leaves - one for each fillet
-
36 peppercorns - 6 for each fillet
-
3/4 cup half and half
-
fresh parsley - chopped for garnish