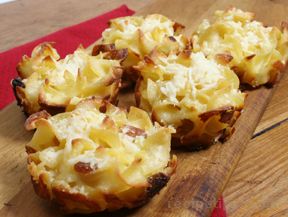 Directions
In a medium bowl, combine sour cream, melted butter, cream cheese, eggs, sugar and lemon juice.
Whisk lightly with a whisk or fork.
Cover and refrigerate overnight if possible or at least 2 hours.
Add 1 teaspoon of oil to a large pot of boiling, salted water. Add noodles and cook until al denté.
Drain and toss with the 1 tablespoon of butter.
Cover and refrigerate overnight if desired.
Preheat oven to 350°.
Generously grease or butter the cups of a 12 cup popover pan or muffin tin. Set aside.
After refrigeration, fold the egg noodles into the cold egg mixture and combine well.
Add cheese and mix to combine.
Fill cups with noodle mixture.
Bake until golden brown (40-45 minutes).
Sprinkle with grated parmesan cheese and serve.
Prep Time: 10 minutes
Cook Time: 45 minutes
Container: medium bowl, large bowl, popover pan or muffin tin
Servings: 15


Ingredients
-
8 ounces sour cream
-
1/4 cup butter - melted plus 1 tablespoon for noodles
-
1 1/2 ounces cream cheese - softened
-
2 large eggs
-
1 teaspoon sugar
-
1/2 teaspoon lemon juice
-
8 ounces wide egg noodles
-
1/2 cup guyere or swiss cheese - shredded
-
parmesan cheese to garnish