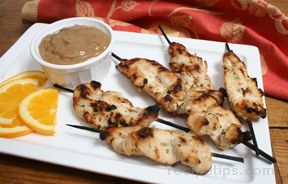 Directions
CHICKEN:
Place coconut milk, lime juice, oil, cilantro, ginger, sugar and garlic in a large mixing bowl.
Stir to dissolve sugar.
Cut each chicken breast lengthwise into 3 strips and let marinate in a bowl in the refrigerator for 3-4 hours.
Soak bamboo skewers in water for at least 1/2 hour.
Thread chicken strips onto soaked skewers and grill over direct medium heat for 3-5 minutes on each side.
Watch closely. Serve warm.

SAUCE:
Place coconut milk, peanut butter, sugar, soy sauce, onion, chile sauce, garlic, vinegar, lime zest, cilantro and basil in a medium saucepan.
Bring just to a simmer while stirring. Do not boil.
Continue cooking until sauce thickens, approximately 5 minutes.
Remove from heat, store in the refrigerator if not using right away.
Reheat before serving.
After removing from heat you may strain the sauce before serving if desired but not necessary.

Note: Canned coconut milk can be found in the baking section of most grocery stores.
Prep Time: 20 minutes
Cook Time: 20 minutes
Container: mixing bowl, saucepan, bamboo skewers
Servings: 4


Ingredients
-
CHICKEN:
-
1/2 cup canned coconut milk
-
1/4 cup fresh lime juice ( 2 limes) or canned
-
1/4 cup peanut oil
-
2 tablespoons fresh cilantro -chopped
-
1 teaspoon fresh ginger - minced
-
1 teaspoon sugar
-
1 teaspoon garlic - minced
-
4 boneless, skinless chicken breasts halves
-
6 bamboo skewers
-
SAUCE:
-
1 1/2 cups canned coconut milk
-
6 tablespoons creamy peanut butter
-
3 tablespoons brown sugar
-
1 tablespoon soy sauce
-
3 tablespoons green onion - minced
-
2 tablespoons Thai style chile sauce or Thai red curry paste
-
1 teaspoon garlic - minced
-
2 teaspoons rice vinegar - unseasoned
-
1 teaspoon lime zest - minced
-
1/2 cup fresh cilantro - minced
-
3 tablespoons fresh basil - minced