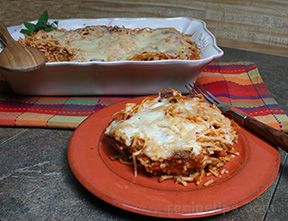 Directions
Cook spaghetti according to package directions; drain.
Meanwhile, brown ground beef and onions. Cook until the ground beef is no longer pink and onions are translucent. Drain off any excess fat drippings.
Add the spaghetti sauce to the meat and heat through.
When the pasta in done, add one cup of the mozzarella cheese, the parmesan and romano cheese, eggs, oil, garlic powder and salt and pepper.
Press this into a greased 13x9 inch baking dish.
Pour spaghetti sauce and meat mixture over the pasta.
Cover and bake at 350° for 20 minutes.
Uncover and sprinkle the remaining mozzarella cheese on top.
Bake uncovered for an additional 10 minutes.
Allow to cool slightly before serving.
May add mushrooms, black olives, green peppers, etc.
Freezes well.
Prep Time: 20 minutes
Cook Time: 30 minutes
Container: 9x13 baking dish, pasta pot, skillet
Servings: 12


Ingredients
-
16 ounces spaghetti noodles
-
3 cups mozzarella cheese - shredded
-
3/4 cup parmesan cheese - grated or shredded
-
1 cup romano cheese - grated
-
3 eggs - beaten
-
1 tablespoon olive oil
-
2 teaspoons garlic powder
-
1 pound ground beef
-
1 small white onion - diced
-
salt and pepper to taste
-
62 ounces your favorite spaghetti sauce