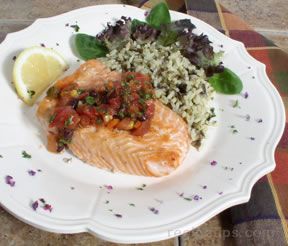 Directions
Salsa Preparation: In small bowl, combine garlic, olive oil, balsamic vinegar, corn kernels, tomatoes, onion, and cilantro.
A sweet onion can be substituted for the red onion if a milder onion flavor is desired.
Canned tomatoes can be substituted for fresh tomatoes. A 28 ounce can provides about 1 1/2 cups. If canned tomatoes are used, drain the juice. If desired, use a can of seasoned diced tomatoes to add an extra spiciness to the salsa.
Mix all ingredients together and set aside until ready to serve. Makes approximately 2 1/2 cups of salsa.
Preheat oven at 400° F.
Clean salmon filets lightly by rinsing with cold water. Pat dry with paper towels.
Line a baking sheet or broiler pan with foil and spray foil with non-stick cooking spray. Arrange filets skin side down and evenly spaced on bakeware.
Add salt and pepper seasoning to filets.
Bake filets until meat is opaque throughout or begins to flake easily, which will normally require 6 to 9 minutes in oven.
Remove from oven and serve. Garnish with lemon wedges and tomato salsa.
NOTE: A garden variety canned salsa can substituted for fresh salsa if desired. This will reduce the preparation time by 15 minutes.
Prep Time: 30 minutes
Cook Time: 10 minutes
Container: 11 x 17 baking sheet or broiler pan
Servings: 6
Serving Size: 1 filet


Ingredients
-
6 filets fresh salmon, 6 to 8 ounces each
-
salt and pepper to taste
-
1 fresh lemon, cut into wedges
-
Salsa
-
1 1/2 cups fresh ripe tomatoes, diced - 2 medium
-
28 oz can of diced tomatoes, drained can be substituted
-
3/4 cup corn kernels, cooked
-
1/4 cup red onion, minced (sweet onion can be substituted)
-
1/4 cup fresh cilantro, chopped
-
1 clove garlic, crushed
-
1 teaspoon olive oil
-
1 tablespoon balsamic vinegar