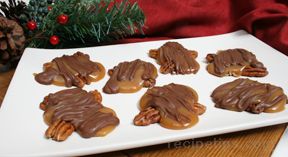 Directions
Melt butter in a heavy pan.
Add brown sugar, syrup and milk.
Stir constantly over medium heat to make sure that it doesn't scorch.
Bring to a full boil. Boil for 15 minutes stirring constantly.
Add vanilla and stir.
Allow to cool for 10 minutes in pan.
Meanwhile, place groups of 4 pecans together on 3 buttered cookie sheets.
Spoon approximately 1 tablespoon of caramel onto each group of pecans.
Melt candy bars, one at a time, in the microwave for approximately 30 seconds.
Spoon swirls of chocolate onto each turtle.
Allow to cool completely and enjoy.
Serving Size: 1 piece


Ingredients
-
1 cup butter
-
2 cups brown sugar
-
1 cup white syrup
-
14 ounces sweet condensed milk
-
1 teaspoon vanilla
-
24 ounces pecan halves
-
5 regular sized plain chocolate bars