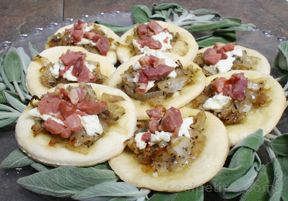 Directions
Preheat oven to 475°.
In a large skillet, heat oil over medium-low heat.
Add onions, salt, pepper, herbs de Provence and sugar.
Stir to combine, continue cooking over medium-low heat, stirring occasionally until the onions are carmelized and dark golden brown. (Approximately 1 1/2 hours)
When they are done you may want to chop the onions into smaller pieces after they cool.
Roll out pizza dough into 1/4 inch thick round on a floured surface.
Using a cookie cutter or glass, cut out 18-20 circles.
Arrange the circles on a greased cookie sheet.
Place a small spoonful of onion mixture on top then a small amount of goat cheese. (Approximately 1/2 teaspoon)
Bake 10 minutes or until the crust is done and the topping is bubbly.
While still hot, top each with a small piece or chopped prosciutto.
Serve immediately.
Prep Time: 1.5 hours
Cook Time: 10 minutes
Container: baking sheet, large skillet, 2 1/2 inch round cookie cutter
Servings: 18


Ingredients
-
3 tablespoons olive oil
-
1 onion large and sweet, sliced in very thin rings (approximately 4 cups)
-
1 teaspoon salt
-
pepper to taste
-
2 teaspoons Herbs de Provence
-
1 teaspoon sugar
-
1 package Jiffy Pizza Dough mix
-
3 ounces goat cheese (approximately 1/2 cup)
-
3 ounces prosciutto cut into 1x1 pieces (approximately 5 slices)
-
parsley or rosemary to garnish if desired