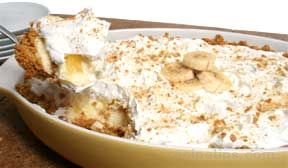 Directions
CRUST:
Mix crushed graham cracker and one stick melted butter with a fork.
Line the bottom and sides of the baking pan with this mixture.
Bake for 5-8 minutes or until golden brown. Allow to cool.

FILLING:
Beat eggs*, 2 sticks of butter, 1 cup of whipped topping and powdered sugar until fluffy.
Spread mixture on cooled crust.
Top with crushed pineapple and a layer of sliced bananas (2-3 bananas).
Cover with remaining whipped topping.
Garnish with nuts, bananas, or sprinkled with crushed graham crackers.
Refrigerate for one hour before serving.

*NOTE: When a recipe requires "raw" eggs as an ingredient, there is always a concern that potentially harmful bacteria may have invaded the egg which may cause illness in humans. Although the probability is low (1 in 20,000 eggs), the concern does exist; therefore, if you are concerned about using raw eggs, consider an egg substitute, such as pasteurized whole eggs, egg white substitutes, or meringue powder, to reduce the potential of bacterial contamination.
Prep Time: 10 minutes
Cook Time: 20 minutes
Servings: 12


Ingredients
-
4 cups graham crackers, crushed
-
3 sticks butter or margarine at room temperature
-
2 eggs, or egg substitutes*
-
16 ounces powdered sugar
-
20 ounces canned crushed pineapple, drained
-
3 bananas, sliced - more for garnish if desired
-
16 ounces whipped topping