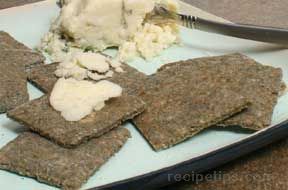 Directions
Preheat oven to 350°.
Combine buttermilk and oil in a small bowl.
In a separate mixing bowl, stir together the dry ingredients.
Add milk mixture and stir until dough forms a ball.
Knead on a floured surface for appoximately 5 minutes.
Divide dough in half and shape each into a 12 inch square.
Cut into 2 inch squares.
Sprinkle with additinal salt or cayenne pepper if you like.
Bake on a lightly oiled baking sheet for 15 minutes or until edges are slightly brown.
Cool slightly before removing from the baking sheet.
Cool on a wire rack and store in a covered container.
Freezes well.
Prep Time: 20 minutes
Cook Time: 15 minutes


Ingredients
-
1/2 cup buttermilk
-
3 tablespoons vegetable oil
-
1 cup organic blue corn meal
-
1/2 cup flour
-
1 tablespoon corn starch
-
3/4 teaspoon kosher salt
-
1/4 teaspoon baking soda
-
1/8 teaspoon cayenne pepper - more to taste
-
1/2 teaspoon chili powder - more to taste
-
1 teaspoon garlic powder