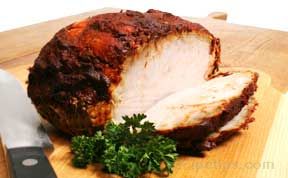 Directions
Place the poblano chiles in a small bowl and cover them with boiling water. Let sit for 10 minutes.
Place chiles in a colander to drain.
When cool enough to handle, cut the stems off and remove any seeds.
Put in blender.
Add lime and orange juices, garlic, onion and salt.
Blend until smooth.
Save 3/4 to 1 cup of this sauce and put it in the refrigerator.
Rub turkey with remaining sauce, place on a plate and cover with plastic wrap. Allow this to marinate for at least 2 hours.
If grilling, preheat the grill to medium heat.
Grill, covered, until a thermometer reaches 165° (1-1 1/2 hours) or roast in an oven covered at 400° for 1 hour and 20 minutes. These times are approximate depending on size of turkey.
Transfer to a cutting board, let sit for 15 minutes before slicing.
Serve with sauce on the side.
Cook Time: 15 minutes
Servings: 6


Ingredients
-
3 pounds turkey breast or 1 bone in turkey breast (4-6 pounds)
-
1 package of 5 dried poblano chiles - found in the mexican section of your local grocery store.
-
3 tablespoons lime juice - fresh or purchased
-
3 tablespoons orange juice
-
5 cloves garlic
-
1 small white onion, diced
-
1 teaspoon coarse salt