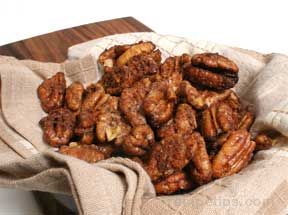 Directions
Preheat oven to 350°.
In a medium bowl, combine salt, cayenne, white pepper, nutmeg, cloves and allspices.
Add the pecans and toss well to coat.
Drizzle melted butter oven pecans and mix well.
Spread out onto a rimmed baking sheet, scraping any spices and butter from the bowl and spreading the nuts into a single layer.
Bake until lightly toasted, stirring occasionally for approximately 9 minutes.
Drizzle molasses over the nuts, stir and bake for another 10 minutes or until the nuts turn glossy and slightly dark.
Allow to cool on the pan.
Pour into a bowl and break apart any large clumps or clusters.
Prep Time: 5 minutes


Ingredients
-
4 teaspoons kosher salt
-
1/2 teaspoon cayenne
-
1 teaspoon white pepper
-
1 teaspoon nutmeg
-
1 teaspoon ground cloves
-
1 teaspoon allspice
-
4 cups pecan halves
-
1/4 cup butter - melted
-
1/3 cup molasses