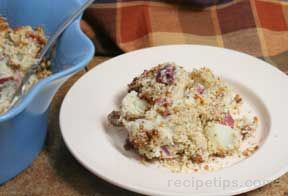 Directions
Clean red potatoes, leaving skins on.
Boil in water until tender (apporixmatley 30 minutes).
Drain potatoes and put back in pot.
Add 4 tablespoons of butter, 1/2 cup mixed ranch dressing and bacon.
Mash altogether or whip to the consisteny you desire.
Put in a baking dish and top with cheese and bread crumbs.
Put under a low broiler for 5-10 minutes, just until lightly browned.
Serve hot.
Prep Time: 20 minutes
Cook Time: 30 minutes
Servings: 8


Ingredients
-
2 pounds red potatoes - unpeeled
-
1/2 cup ranch dressing
-
4 tablespoons butter
-
4 slices bacon - fried crisp and chopped
-
1/2 cup parmesan cheese
-
1/2 cup seasoned bread crumbs