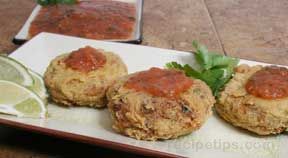 Directions
SALSA:
Heat oven to 400°.
Cut tomatoes in half.
Set them cut side down on a foil-lined baking sheet and cook until the skin splits and the tomatoes soften. Approximately 10 minutes.
Cool slightly on the sheet.
Peel the skins from the tomatoes and discard.
Place tomatoes and remaining salsa ingredients in a food processor.
Process until well blended.
If you do not have a food processor you can finely chop all ingredients and mix them together.
Adjust seasoning to taste.
Store in an air tight container in the refrigerator.
TURKEY CAKES:
Finely chop turkey and transfer to a bowl.
Add cilantro, onion, chile, breadcrumbs, lime zest, lime juice, chopped red pepper (optional) and gravy or cream.
Season with 3/4 teaspoon of salt and pepper to taste.
Mix in the egg yolk.
Mold the mixture into 6 medium sized patties or 8 small patties, 1/2 inch thick.
Cover with plastic wrap and refrigerate for at least 30 minutes.
Heat oven to 350°.
Place patties on a baking sheet and bake in oven until warmed through.
Heat a medium sized frying pan over medium heat.
Add oil and heat.
Whisk egg whites with 1 tablespoon cold water in a small bowl.
Place cornmeal in a different shallow bowl.
Dip patties into the egg white mixture and then into the cornmeal.
Add coated patties to the hot oil, cooking each side until golden brown. Approximately 3 minutes per side.
When down, transfer patties to a baking sheet in the oven and bake for approximately 5 minutes.
Serve with spicy roasted tomato salsa.
Prep Time: 30 minutes
Cook Time: 10 minutes
Container: Baking sheet and skillet
Servings: 3
Serving Size: 2 each


Ingredients
-
SALSA:
-
3 medium to large tomatoes, cored and cut in half
-
1 tablespoon jalapeño pepper - finely chopped
-
1 tablespoon fresh cilantro - chopped
-
1 tablespoon lime juice
-
1/2 teaspoon salt
-
pepper to taste
-
TURKEY CAKES:
-
1 cup diced, cooked turkey - dark or white meat
-
2 tablespoons fresh cilantro - chopped
-
1 tablespoon onion, chopped
-
1 fresh red or green chile - jerrano or jalapeño, seeded and finely chopped
-
1/2 red pepper - diced
-
1/2 cup shredded parmesan cheese mixed with 1/2 cup of bread crumbs
-
grated zest of one lime
-
2 tablespoons lime juice
-
3 tablespoons leftover gravy or heavy cream
-
salt and pepper to taste
-
1 egg, separated
-
1/2 cup cornmeal
-
1/4 cup olive or vegatable oil