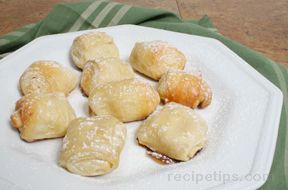 Directions
Beat the cream cheese, almond extract, lemon zest, and sugar in a small bowl until light and fluffy.
Open one can of dough and separate to form 4 rectangles.
Using your fingers, press the perforations together to create a solid rectangle.
Roll each into a 7 x 4 inch rectangle.
Spread each with 2 tablespoons of the cream cheese mixture to within 1/4 inch of the edges.
Starting with the short end, roll each rectangle tightly into a cylinder.
Repeat with the other can of dough and the remaining filling.
Place all on a plate, cover with plastic wrap, and refrigerate.
Chill for 30 minutes or until firm.
Preheat oven to 350°F.
Remove the rolls from the refrigerator and cut each into 4 slices.
Place the slices 1/2 inch apart on an ungreased baking sheet.
In a small bowl, combine egg whites with water and brush this mixture over the rolls.
Bake 18 to 20 minutes or until light brown.
While baking, combine the glaze ingredients.
After baking, cool the rolls on a wire rack for 5 minutes.
With waxed paper under the wire rack to catch the excess icing, drizzle the icing over the rolls and serve.
Note: You can dust the rolls with powdered sugar if desired.
Prep Time: 45 minutes
Cook Time: 20 minutes
Container: small mixing bowl, ungreased baking sheet
Servings: 12


Ingredients
-
ROLLS:
-
6 ounces cream cheese, softened
-
1 teaspoon almond extract
-
1/2 cup powdered sugar
-
1 teaspoon grated lemon peel
-
2 tubes refrigerated crescent rolls (8 ounce tube)
-
1 egg white
-
1 teaspoon water
-
GLAZE:
-
1/2 cup powdered sugar
-
4 teaspoons milk
-
1/2 teaspoon almond extract