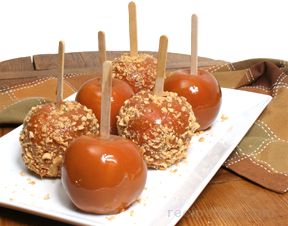 Directions
Place caramels and water into a microwave safe bowl.
Microwave on medium for 2 1/2 to 3 minutes, stirring after one minute, or until caramels are melted and smooth.
If using the stovetop method, melt caramels with water in a medium sized saucepan over medium low heat, stirring constantly, until the caramels are completely melted.
Insert sticks into the stem end of the apples approximately 3/4 of the way through the apple.
While holding onto the popsicle stick, dip the apples into the caramel until completely covered. You may have to spoon the caramel to get it all the way onto the top of the apple.
Allow the excess caramel to drip from the apple over the bowl.
Using a knife, scrape the caramel from the bottom of the apple.
Set the apples onto a plate covered with a piece of wax paper that has been greased with butter. This will ensure that they apples don't stick.
Sprinkle with chopped peanuts, optional.
Refrigerate for at least one hour or until ready to serve.
Store in the refrigerator.
Prep Time: 15 minutes
Cook Time: 10 minutes
Servings: 6


Ingredients
-
50 caramels or 1 (14 oz) package
-
1 tablespoon water - 2 tablespoons if using the stovetop method
-
5 large or 6 medium sized apples
-
5 or 6 popsicle sticks
-
1/2 cup chopped peanuts