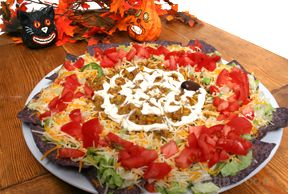 Directions
Combine corn and oil on a baking sheet, stir to coat.
Broil 10-12 minutes, stirring occasionally until the corn is roasted. Watch this carefully, if it over cooks it will pop in the oven.
Allow corn to cool completely.
In a medium bowl, combine lime juice, 2 tablespoons salsa, avocado, and cumin; stir well.
Stir in the cooled corn and chill for 4-6 hours.
When ready to assembly the dip, spread 1/2 cup of sour cream on the bottom of a large round platter.
On top of that, spread 1/2 cup of salsa.
Next, spread on the roasted corn guacamole.
Place corn tortillas around the edge.
On top of the tortillas, layer the shredded lettuce, cheese and chopped tomato.
Using a plastic bag, put in 1/2 cup sour cream and snip the corner. Pipe the sour cream in 3-4 circles on top of the corn guacamole. You can also use squeezable sour cream for this step.
Drag a toothpick or knife tip through the sour cream from the center outward to make the "spider web".
Place a black olive onto the web to resemble the "spider".
Serve with tortilla chips.
Prep Time: 45 minutes
Cook Time: 10 minutes
Container: Large circular platter
Servings: 15


Ingredients
-
2 cups frozen corn kernels
-
2 tablespoons olive oil
-
Juice from one lime
-
1/2 cup plus 2 tablespoons salsa
-
2 ripe avocados, seeded, peeled, and mashed
-
1 teaspoon cumin
-
1 cup sour cream divided
-
Corn tortillas chips
-
1 cup chopped lettuce
-
1 cup shredded Cheddar cheese
-
1 cup chopped tomatoes
-
Black olive for the spider