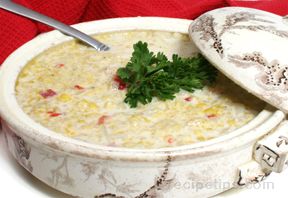 Directions
In a large saucepan, or soup pot, bring milk to a low simmer.
Cut corn kernels from the cob. Set corn aside.
When milk is warm, add the cobs and simmer for 10 minutes.
While cobs simmer, heat olive oil in a large skillet over medium high heat.
Add diced potatoes, sauté 10 minutes, add onion and thyme; sauté for another 8-10 minutes.
Add garlic and sauté 1 minute longer.
Remove cobs from the milk and discard.
Transfer potatoes and onion mixture to the milk.
Add the corn kernels and red pepper(if using) and simmer 15 minutes.
Season to taste with salt and pepper.
Note: To make a thicker chowder, transfer of the soup mixture to a blender or food processer and pureé. Then transfer it back to the soup pot and mix together. Cook's Note: Cut the potatoes into corn kernel size in order for them to cook faster. Cut kernels from the cob with a serrated knife and don't be afraid to season well with salt and pepper.
Prep Time: 10 minutes
Cook Time: 20 minutes
Container: saucepan
Servings: 4


Ingredients
-
4 cups whole milk
-
7 ears of fresh sweet corn
-
2 tablespoons olive oil
-
1 large yellow onion, diced
-
1 1/2 cups potatoes, finely diced. (one large baking or two small, may also use red potatoes)
-
1/2 teaspoon dried thyme
-
4 cloves garlic, minced
-
salt and pepper to taste
-
1/2 cup red pepper, chopped (optional)
-
3 slices bacon, crisp and crumbled (optional)