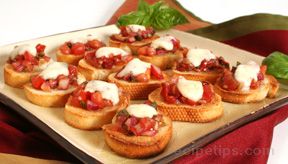 Directions
Chop the tomatoes, onions, and basil into fine pieces. Combine with capers in a large bowl, stirring in the vinegar and olive oil. Season to taste with salt and pepper.
Preheat oven on broil.
Cut baguette bread into individual slices about 1/2 inch thick. A smaller sized baguette approximately 2 to 3 inches in diameter works well.
Arrange pieces of bread on a baking sheet and place the sheet in the middle of the oven to toast the bread. Allow 1 to 2 minutes or remove when golden brown.
While the toasted slices are kept on the baking sheet, brush one side of the warm bread with olive oil. If desired for added flavor, the pieces of bread can be rubbed with a clove of garlic prior to brushing on the olive oil or use a garlic flavored olive oil.
Top each piece of bread with approximately 1 teaspoon of the tomato, onion and caper mixture. Then, top the mixture with 1/4 teaspoon of cheese.
Place the baking sheet in the middle of the oven to melt the cheese, approximately 1 minute or until slightly melted.
Remove from oven and serve.
Note:This recipe will be sufficient for 42 smaller pieces sliced from a French baguette with leftover topping remaining. Therefore, larger pieces of French bread can be used, if desired, but the total amount of available topping will depend on the amount placed on each piece. Also, the amount of cheese may need to be doubled.
Prep Time: 45 minutes
Cook Time: 5 minutes
Container: Mixing bowl
Servings: 42
Serving Size: 1 each


Ingredients
-
2 cups 2 large tomatoes, chopped fine
-
red onion, chopped fine
-
1/4 cup fresh basil, chopped
-
2 tablespoons balsamic vinegar
-
2 tablespoons capers
-
4 tablespoons extra virgin olive oil
-
salt and pepper to taste
-
loaf, French baguette bread
-
2 ounces fresh mozzarella or buratta cheese