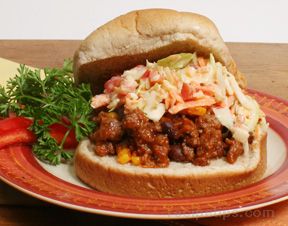 Directions
SLAW:
Toss cabbage, onion, carrot, tomatoes, and parsley until well mixed.
In a small bowl, mix oil, vinegar, mayonnaise, sugar, dry mustard, garlic powder, celery seed, salt and pepper. Pour oil mixture over cabbage and toss.
Chill for two hours before serving.
SLOPPY JOES:
Brown ground beef with onion in a large skillet over medium heat. Pour off drippings.
Stir in ketchup, corn, beans, tomato sauce, chipotle peppers, and cumin. Bring to a boil. Then, reduce heat and simmer for 5 minutes. Stir in cilantro. Season with salt and pepper to taste.
Place inside bun with slaw on top of Sloppy Joe mixture.
Servings: 4


Ingredients
-
SLAW:
-
6 shredded cabbage
-
1 red onion, diced
-
1 carrot, peeled and grated
-
1 fresh tomatoes, peeled, seeded, and diced
-
1 parsley, minced
-
2 oil
-
2 vinegar
-
1/4 mayonnaise
-
1 sugar
-
1/4 dry mustard
-
1/8 garlic powder
-
1/2 celery seed
-
Salt and fresh ground pepper to taste
-
SLOPPY JOE:
-
1 lean ground beaf
-
1/4 chopped onions
-
1/4 ketchup
-
1/2 frozen or canned corn
-
1/2 canned black beans, rinsed, and drained
-
1/2 tomato sauce
-
1 minced chipolte peppers in adobo sauce
-
1/2 ground cumin
-
1/4 fresh cilantro, chopped
-
1/4 salt
-
1/4 pepper
-
4 hamburger buns, split