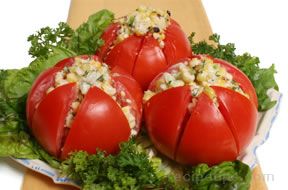 Directions
Place tomatoes, stem side down, on cutting surface. Cut each into 4-6 wedges, cutting just to, but not through, the stemmed end.
Gently spread wedges apart slightly. Sprinkle with salt. Cover and chill.
In a small bowl, combine dressing, parsley, pepper, and red pepper.
In a medium bowl, combine corn, cheese, green pepper, cucumber, and onion. Add dressing mixture and toss gently to coat.
Cover and chill.
Fill tomatoes with corn mixture. Serve on top of lettuce on individual plates.
Prep Time: 20 minutes
Cook Time: 10 minutes
Servings: 6


Ingredients
-
small to medium sized ripe tomatoes
-
1/2 cup creamy buttermilk salad dressing
-
2 tablespoons parsley, snipped
-
1/4 teaspoon pepper
-
1 dash ground red pepper
-
2 cups approximately 4 ears of fresh sweet corn, grilled or boiled
-
1/2 cup monterey jack cheese
-
1/4 cup green pepper, chopped
-
1/4 cup cucumber, seeded and chopped
-
1/4 cup onion, chopped
-
lettuce leaves to garnish plates