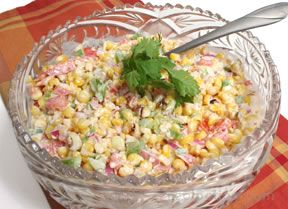 Directions
This recipe can be made with grilled or boiled corn.
If boiling corn, bring a large pot of water to a boil and add corn until slightly cooked, approximately 3 minutes; drain and pat dry.
If grilling, preheat the grill, oil the ears, and grill for 5-10 minutes; allow to cool.
Over a cutting board, hold each cob by the pointed end and using a sharp knife, cut down along the cob to strip off kernels. Turn cob after each cut.
In a salad bowl, combine the corn kernels, tomatoes, bell pepper, celery, onion, and jalapeno chile, tossing to mix well.
In a medium sized bowl, whisk together the mayonnaise and yogurt until smooth.
Whisk in the chicken broth and vinegar. Pour over corn mixture and toss well.
Season with salt and pepper to taste.
Cover and refrigerate at least one hour.
Sprinkle with cilantro and parsley before serving, if desired.
Prep Time: 20 minutes
Cook Time: 5 minutes
Container: salad bowl


Ingredients
-
6 large ears of sweet corn, husks and silks removed
-
12 cherry tomatoes, or one large tomato, chopped
-
1 large green bell pepper, seeded and chopped
-
1 stalk celery, chopped
-
1 small red onion, chopped
-
1 small jalapeno, seeded and minced
-
1/2 cup mayonnaise
-
1/4 cup plain yogurt
-
1/4 cup chicken broth
-
2 tablespoons red wine vinegar
-
salt and pepper to taste
-
2 teaspoons fresh cilantro, chopped (optional)
-
2 teaspoons fresh parsley, chopped (optional)