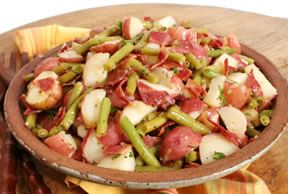 Directions
Cut turkey bacon into bite size pieces and fry in a large skillet until crisp. Remove turkey bacon from skillet and place on paper towel to remove any excess fat.
Slice potatoes (unpeeled) into bite size pieces and cook in boiling water until just tender, approximately 15 minutes. While potatoes are boiling, stem beans and cook for 8 minutes or until just tender and slightly crisp.
While the beans are cooking, combine the dressing ingredients and whisk together.
Drain potatoes and beans and then place potatoes, beans, and bacon into a serving bowl. Pour dressing on top and toss.
Serve at room temperature.
Prep Time: 30 minutes
Cook Time: 15 minutes
Container: 3 quart serving bowl
Servings: 14
Serving Size: cup


Ingredients
-
12 ounces lean turkey bacon
-
3 pounds new red potatoes
-
1 pound fresh green beans
-
DRESSING:
-
1 bunch green onions (or 1 cup), thinly sliced
-
1/3 cup fresh parsley, snipped
-
1 teaspoon salt
-
1 teaspoon dry mustard
-
3/4 teaspoon dried basil leaves
-
3/4 teaspoon dried tarragon leaves
-
1 clove garlic, minced
-
Freshly ground black pepper, to taste
-
1/4 cup tarragon vinegar
-
1/4 cup chicken broth
-
1/2 cup canola oil
-
optional garnish: freshly snipped tarragon