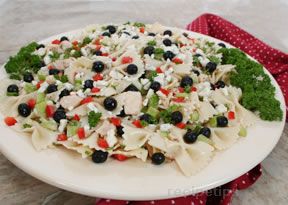 Directions
Prepare pasta according to package directions. Drain and rinse pasta in cold water.
In a large serving bowl combine pasta, chicken, celery, blueberries, red pepper, parsley, and onion. Stir to combine.
Pour dressing over entire mixture and toss until coated.
Add salt and pepper to taste.
Sprinkle blue cheese on top. Cover and refrigerate until ready to serve.
Prep Time: 15 minutes
Cook Time: 15 minutes
Container: large serving bowl
Servings: 10


Ingredients
-
16 ounces pasta (farfalloni, bow tie, or your choice of shaped pasta)
-
1 1/2 cups Italian (zesty) dressing
-
10 ounces canned chicken, drained
-
1 cup celery, chopped
-
1 pint fresh blueberries
-
1 cup sweet red pepper, chopped
-
1/4 cup fresh parsley, chopped
-
1 bunch green onions, chopped
-
Salt and pepper to taste
-
2 ounces blue cheese, crumbled