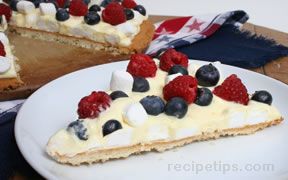 Directions
Preheat oven to 375° F.
Line a pizza pan with foil and lightly spray the foil with non-stick cooking spray.
In a medium sized bowl, combine the packaged cookie dough with coconut. Mix with your hands until all the coconut is combined with the dough. Press cookie dough onto prepared pizza pan.
Bake for 15 minutes or until the dough is golden brown. Cool completely.
Pour milk into a large mixing bowl and add the dry pudding mix. Beat with a wire whisk for approximately 2 minutes. Stir in whipped topping, marshmallows, and vanilla extract.
Spread pudding mixture over the cookie crust. Top with fruit and extra marshmallows. Any variety of fruit can be used for this recipe.
Servings: 12


Ingredients
-
1 package refrigerated sugar cookie dough
-
1 cup chopped coconut
-
1 1/2 cups milk
-
1 package vanilla flavored instant pudding
-
2 cups miniature marshmallows
-
1 1/2 cups whipped topping
-
1/2 teaspoon vanilla extract
-
1 1/2 cups blueberries
-
1 1/2 cups raspberries
-
1/2 cup miniature marshmallows