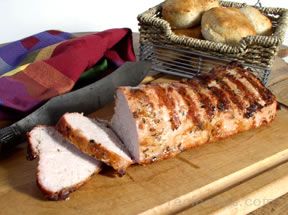 Directions
Place the pork loin in a roasting pan and pour approximately 12 oz. (1 can or bottle) of beer over the loin.
Rub the Creole seasoning over the loin.
With the sharp tip of a knife, make small slits into the meat. Place a slice of garlic into each slit.
Cover the pan and marinate a minimum of 3 hours; marinate longer if desired.
The loin may then be grilled or roasted.
GRILL: Over medium to medium-high heat, turn the loin every 2 minutes to brown all sides of the loin for the first 15 minutes of the cooking time; then grill the loin over indirect heat for 1 1/2 - 2 hours or until the internal temperature reaches 155 -160 degrees F for medium doneness or 165 - 170 degrees F for medium-well doneness.
OVEN: roast the loin uncovered at 325 degrees F, 20 to 24 minutes per pound. (The internal temperature should read 155 -160 degrees F for medium; 165 - 170 degres F for medium well.) After removing the meat from the oven, the temperature will rise approximately 5 degrees F.
Prep Time: 15 minutes
Cook Time: 2 hours
Container: large roasting pan and a grill
Servings: 10


Ingredients
-
6 pounds whole pork loin, boneless
-
8 cloves garlic, peeled and sliced in half
-
1 tablespoon Creole seasoning, to taste
-
12 ounces beer