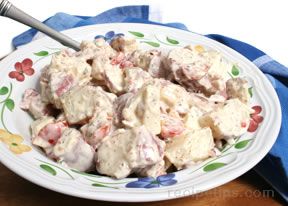 Directions
Boil potatoes in salted water for approximately 15 minutes or until just tender. Drain and allow to cool.
In large bowl, combine red onion, cherry tomatoes, bacon bits, basil, Italian drssing, mayonnaise, and mustard. Stir until smooth and combined.
Add cooled potatoes and toss to coat.
Refrigerate until ready to serve.
Prep Time: 30 minutes
Cook Time: 15 minutes
Servings: 15


Ingredients
-
3 pounds baby red potatoes
-
1/2 small red onion, diced
-
1/2 cup cherry tomatoes, quartered
-
1/4 cup bacon bits
-
1/4 cup fresh basil, chopped
-
1/4 cup zesty Italian dressing
-
1/4 cup mayonnaise
-
2 teaspoons coarse ground grey poupon mustard