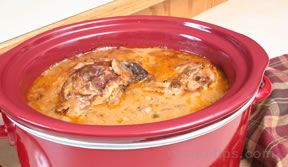 Directions
Coat crock pot insert with non stick cooking spray.
In a medium sauce pan, stir together soups, water, 1 tablespoon of onion soup mix, and butter over medium heat until combined and butter has melted. Set aside.
Place uncooked rice into prepared crock pot. Pour 2/3 of soup mixture over rice and stir well to combine. Place chicken breasts on top of rice mixture and spread mushrooms on top of the chicken. Pour remaining soup mixture over chicken breasts and mushrooms.
Sprinkle remaining dried onion soup over chicken breasts. Garnish with paprika.
Cover and cook on low for 6 to 6½ hours. Do not remove cover for the first 2 hours to prevent heat loss. After first 2 hours of cooking time, remove cover and stir quickly to allow excess liquid to mix with rice. Return cover and do not remove until done.

Serve hot. Add a quick salad to complete the meal.
Prep Time: 15 minutes
Cook Time: 6 or more hours
Container: 4 quart crock pot
Servings: 6


Ingredients
-
4 pounds chicken breasts, skinless
-
1 1/2 cups white rice, uncooked
-
1 can cream of mushroom seasoned with garlic soup
-
1 can cream of chicken with herbs soup
-
1 can cream of celery soup
-
4 tablespoons butter
-
1 soup can of water or milk
-
4 ounces can sliced mushrooms, drained
-
1 envelope onion soup mix, divided
-
Paprika for garnish