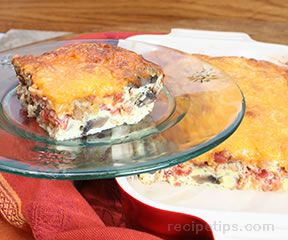 Directions
Prepare baking dish by coating it with cooking spray or butter to keep the frittata from sticking.
In a bowl, whisk together eggs, milk, salt, oregano, and pepper. Pour the mixture into prepared baking dish.
Sprinkle the mixture with sliced mushrooms, onion, and bacon. Top with cheese and fresh oregano.
Bake uncovered at 350ºF for 25 to 30 minutes or until done. Check doneness by inserting a knife in the center; if it comes out clean, the frittata is done.
Serve warm. If desired, garnish with tomato sauce or salsa.
Prep Time: 15 minutes
Cook Time: 30 minutes
Container: 7 x 11 baking dish, mixing bowl
Servings: 6
Serving Size: 1 piece


Ingredients
-
6 eggs
-
1 cup milk
-
1/2 teaspoon salt
-
black pepper to taste
-
1/2 teaspoon dried leaf oregano
-
8 ounces sliced mushrooms
-
1 bunch green onions, chopped
-
1 cup precooked bacon, crumbled
-
1 cup shredded cheddar cheese
-
Optional: fresh oregano for garnish