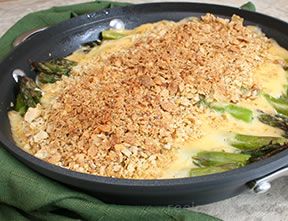 Directions
Melt butter and when butter is completely melted, combine flour and salt, whisking together until all ingredients have a smooth texture. Add milk gradually to ingredients to thicken the sauce as it is stirred and then add shredded cheese.
In a small bowl, combine corn flakes or crumbs and chopped walnuts.
Precook fresh asparagus by steam cooking stalks in pan with boiling water for 5 to 7 minutes.
Grease the bottom and sides of a shallow sided pan such as a gratin, baking, or paella pan. In the pan, use half the asparagus in a layer and then layer on half the breadcrumbs or corn flakes. Pour half of the milk and cheese sauce over the asparagus. Add a second layer of asparagus, placing the heads of the stalks opposite to those in the first layer. Put the rest of the milk and cheese sauce over the asparagus and then top with the remaining breadcrumbs or crushed corn flakes mixture.
Set oven temperature at 375° F and bake for 20 minutes, or until top is golden brown.
Prep Time: 20 minutes
Cook Time: 10 minutes
Servings: 6


Ingredients
-
2 tablespoons butter
-
1 teaspoon salt
-
2 tablespoons flour
-
2 cups milk
-
1 cup cheddar cheese, shredded
-
1 1/2 cups crushed corn flakes or bread crumbs
-
3/4 cup walnuts, chopped
-
1 pound fresh asparagus (approximately 24 stalks)