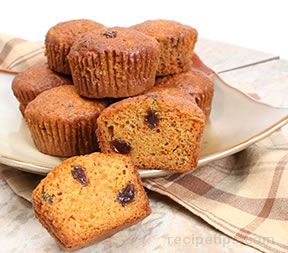 Directions
Preheat oven to 350° F.
Peel and grate carrots and set aside. In a small bowl, add 1 cup of raisins and then pour in 1 cup of boiling water. Set aside for 10 minutes, then drain, and set the drained raisins aside.
In a medium bowl, sift together flour, baking powder, baking soda, salt, cinnamon, and nutmeg.
In a large bowl combine beaten eggs, oil, and applesauce. Add flour mixture and combine until just moistened. Stir in drained raisins and grated carrots.
Fill muffin cups 1/2 full or slightly fuller. Bake 20-25 minutes. Remove from oven and cool before eating.
TIP: Use foil baking liners to keep baked muffins from sticking to sides.
Prep Time: 15 minutes
Cook Time: 25 minutes
Servings: 24


Ingredients
-
3 cups grated peeled carrots (approximately 6 large carrots)
-
1 cup raisins
-
1 cup boiling water
-
2 cups all purpose flour
-
1 tablespoon baking powder
-
2 teaspoons baking soda
-
1 teaspoon salt
-
1/2 teaspoon nutmeg
-
1 1/2 teaspoons ground cinamonn
-
4 eggs - well beaten
-
1/2 cup vegetable oil
-
1/2 cup applesauce (unsweetened)
-
3/4 cup brown sugar (packed)