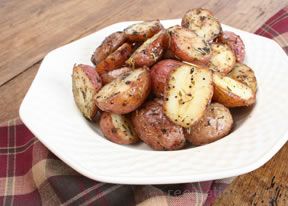 Directions
Preheat oven to 425 degrees F.
Fill large bowl with cut potatoes.
Drizzle oil and seasonings over potatoes, stir to coat.
Place potatoes in a single layer on a foil lined baking sheet, which has had the foil sprayed with non-stick cooking spray.
Bake uncovered 40 to 45 minutes, turning half way through baking time. Baking time may vary depending on the size of the potatoes.
Potatoes should be a light golden brown and tender.
Serve warm.
Experiment with other seasonings if desired.
Prep Time: 15 minutes
Cook Time: 45 minutes
Container: Large foil lined baking pan
Servings: 6


Ingredients
-
2 pounds small red potatoes, scrubbed and cut in half (do not peel)
-
3 tablespoons olive oil, more if desired
-
SEASONINGS TO TASTE:
-
Garlic salt
-
Fresh ground pepper
-
Salt
-
Dried rosemary, crushed
-
Dried parsley
-
Dried or fresh minced garlic