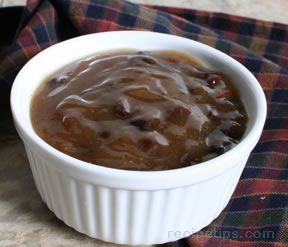 Directions
In a small saucepan over medium heat, stir together maple syrup, water, and cornstarch until it thickens. Reduce heat to low and add raisins, mustard, and cloves, stirring until combined (approximately 1-2 minutes). Remove from heat.
About 30 minutes before the ham is done, remove from oven and cover with glaze. Return to oven and finish baking. (May repeat adding additional glaze half way through the last 30 minutes of baking, if desired.)
Doubles nicely in order to have extra to serve with leftovers.
Prep Time: 5 minutes
Cook Time: 5 minutes
Container: Small Saucepan


Ingredients
-
1/2 cup water
-
1/2 cup pure maple syrup
-
1 tablespoon cornstarch
-
1/2 cup raisins, dark or golden
-
1 teaspoon Dijon mustard
-
1/4 teaspoon ground cloves