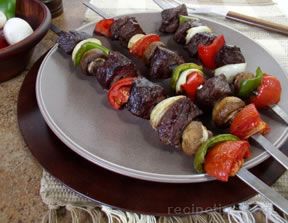 Directions
MARINADE:
Whisk together all marinade ingredients in a large bowl. Remove half of marinade to a smaller bowl so meat and vegetables can be marinated separately. Place meat in smaller bowl, letting it remain for 30 minutes at room temperature. Marinate vegetables in larger bowl for 30 minutes at room temperature.
Turn meat and vegetables several times while they are marinating to coat all sides.


PREPARATION FOR COOKING:
Cut tenderloin into 1-inch square cubes. Quarter onion and separate curved sections so they can be placed on skewer and wrapped loosely around the next item on skewer. Chop bell peppers into 4 sections and cut each section, shaping pieces so they are approximately an inch or less square and can easily fit onto skewer. If a large whole tomato is used instead of cherry tomatoes, cut whole tomato into 8 wedges.
Begin to assemble kebab alternating meat, onion, pepper, mushroom, and tomato, leaving a small amount of space between each item. Leave the mushrooms whole, inserting skewer into the base of the mushroom and through the top. Select firm parts of tomato for inserting skewer so it stays positioned on skewer as the kebabs cook on the grill.
Preheat grill on medium heat. When ready to grill, place the skewers on the grill grate, keeping each skewer 1 to 2 inches away from the next skewer.
Allow the kebabs to cook for several minutes on each side, gently brushing remaining marinade on the kebabs and turning them 2 to 3 times to cook all surfaces.
Prep Time: 30 minutes
Cook Time: 10 minutes
Container: Skewer
Servings: 4


Ingredients
-
MARINADE:
-
1 tablespoon olive oil
-
2 tablespoons fresh lime juice or vinegar
-
1 tablespoon soy sauce
-
2 tablespoons fresh parsley or cilantro, minced
-
1 clove of garlic , crushed
-
fresh ground pepper to taste
-
salt to taste
-
MEAT AND VEGETABLES:
-
1 pound lean beef tenderloin
-
1 large red onion
-
8 ounces button mushrooms
-
8 cherry tomatoes or 1 large whole tomato
-
2 green bell peppers