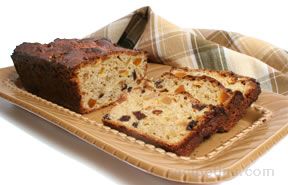 Directions
In a large mixing bowl, combine flour, dry yeast, spice, salt, and brown sugar. Then, in a small bowl, whisk together butter, milk, and egg. Add to flour mixture and stir to combine.
Add dried fruits and citron, stirring until combined. Pour into prepared pan and place in a warm place for 35 to 45 minutes, until the bread dough doubles in size.
While bread is rising, preheat oven to 375º F. Bake 45 to 50 minutes or until bread has pulled away from sides of pan. Tap bottom of bread pan. The tap will sound hollow when bread is done.
Make glaze and spread onto bread. Then, cool on wire rack before slicing.
Prep Time: 15 minutes
Cook Time: 45 minutes
Servings: 6
Serving Size: 1 slice


Ingredients
-
1 package quick rise dried yeast
-
2 cups all-purpose flour
-
1/2 teaspoon pumpkin pie spice
-
1/4 teaspoon salt
-
3 tablespoons brown sugar
-
4 tablespoons butter, melted
-
3/4 cup milk, room temperature
-
1 egg, slightly beaten
-
2 cups dried fruit (mixture of raisins, currents and apricots)
-
4 tablespoons diced candied citron
-
GLAZE:
-
1 tablespoon sugar
-
1 tablespoon boiling water