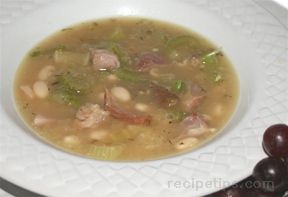 Directions
Sort through the beans and remove any debris. Rinse, add 6 cups water and soak overnight (or use the quick-soak method: boil, uncovered, 2 minutes, cover and let stand 1 hour).
Drain soaking water, add 2 quarts fresh water, the ham bone (after cutting most of the edible bits from the bone, leaving some to flavor the soup), sage or savory, and a generous quantity of freashly ground pepper. Bring to a boil, reduce heat and simmer, partially covered, for 60 - 90 minutes or until beans are soft.
Remove bone from the soup. If there is any edible meat on it, trim off and add back into the soup. Dice onion, carrot, and potato. Slice celery and mince or press garlic. Add vegetables to the soup, along with 2 teaspoons of salt. Simmer until vegetables are tender, about 20 minutes. For a thicker soup, purée some of the vegetables and stir back in. Add reserved ham, taste for seasoning, and sprinkle with chopped parsley, if using.
Prep Time: 15 minutes
Cook Time: 4 hours
Servings: 6
Serving Size: 1 cup


Ingredients
-
1 pound dried navy or great northern beans
-
1 ham bone, with some meat on it
-
2 teaspoons dried sage or savory, crumbled
-
2 stalks celery
-
1 carrot
-
1 potato, preferably baking type
-
2 onions
-
2 cloves garlic
-
2 tablespoons chopped parsley (optional)
-
salt and pepper