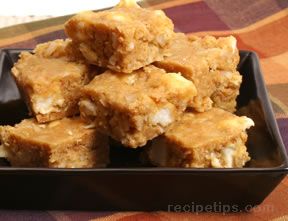 Directions
Combine butter, sugar, and eggs in a medium saucepan. Cook to a rolling boil, remove from heat and allow to cool.
When mixture has cooled, add the graham cracker crumbs, coconut, vanilla, and marshmallows. Stir until ingredients are well mixed.
Press into a 9" x 9" or 7" x 10" pan. Cut into small squares and serve.
Prep Time: 20 minutes
Cook Time: 10 minutes
Servings: 25


Ingredients
-
3/4 cup butter or margarine
-
1 cup sugar
-
2 eggs, beaten
-
2 cups graham cracker crumbs
-
1/2 cup coconut
-
1 teaspoon vanilla
-
2 1/2 cups minature marshmallows