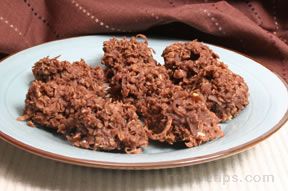 Directions
In a medium saucepan, combine the sugar, milk and butter. Bring to a boil, stirring constantly. Boil for 2 minutes and then remove from heat. Add salt and vanilla.
Have the oats, coconut, and cocoa premixed in a large bowl. Pour the boiled mixture in the bowl with the oats, coconut, and cocoa. Stir until evenly mixed.
Working quickly, drop by tablespoonsful, forming small mounds onto wax paper. Allow to sit for about 1 hour.
Store in a covered container.
Prep Time: 1 hour
Servings: 36
Serving Size: 1 each


Ingredients
-
2 cups sugar
-
1/2 cup lowfat or fat-free milk
-
1/2 cup margarine
-
3 cups quick-cooking oats
-
1 cup flaked coconut
-
6 tablespoons baking cocoa
-
1 teaspoon vanilla
-
1/4 teaspoon salt