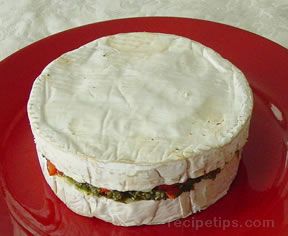 Directions
Preheat oven to 350° F.
Slice an 8 oz. round of brie in half horizontally, making 2 equal layers. Spread pesto on bottom layer, spread peppers over the pesto, and cover with the top layer of brie.
Bake on an oven-proof plate until softened and warm (10 - 12 minutes). Serve warm, with crackers, bread, or fruit.
Prep Time: 5 minutes
Cook Time: 10 minutes
Servings: 6


Ingredients
-
1 8 oz round of brie or camembert cheese
-
3 tablespoons pesto, homemade or purchased
-
3 tablespoons roasted sweet red pepper, chopped