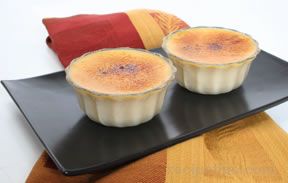 Directions
Preheat oven to 350° F degrees.
In a mixing bowl, beat egg yolks until slightly thickened. Gradually stir in sugar and salt.
Heat the cream in a saucepan over medium heat. Remove from heat before cream comes to a boil. Slowly stir into egg mixture. Add vanilla.
Divide the mixture into 4 ramekins and place them in a baking pan. Fill the pan with water about half way up the ramekins to make a water bath. Bake for 45-60 minutes until firm.
Remove from oven and allow to cool. Sprinkle the top with sugar and carmelize with a kitchen torch. Garnish with raspberries or strawberries.
Tip: Brown sugar may be substituted for the granulated sugar, but you may want to increase the amount to 1 tablespoon per serving.
Cook Time: 45 minutes
Servings: 4
Serving Size: 1 each


Ingredients
-
4 egg yolks
-
1 teaspoon vanilla
-
3 tablespoons granulated sugar
-
2 cups cream
-
1 pinch salt
-
1/2 cup fresh raspberries or sliced strawberries