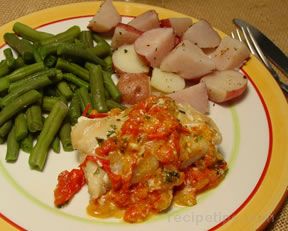 Directions
Chop onion and tomato finely. Remove any skin from the fish and cut into serving size pieces.
In a skillet large enough to hold fillets in a single layer, heat butter and olive oil. Add onion, tomato and oregano. Cook, stirring occasionally, until the onion is soft, about 5 minutes.
Place the fillets on top of the vegetables; salt and pepper everything lightly. Add the wine, cover, and simmer until the fish is opaque and flakes easily, 5 - 10 minutes, depending on the thickness of the fillets. (Test with a fork after 5 minutes.)
When the fish is done, remove it to keep warm, and then raise heat to high and boil until the sauce is reduced to desired thickness, about 5 minutes. Spoon sauce over fish and serve immediately.
Prep Time: 15 minutes
Cook Time: 15 minutes
Servings: 4
Serving Size: 6 ounces


Ingredients
-
4 fillets of cod or other firm white fish, about 6 ounces each
-
1 tablespoon butter
-
1 tablespoon olive oil
-
1 onion
-
1 tomato
-
1 tablespoon chopped fresh oregano , or 1 teaspoon dried
-
1/2 cup dry white wine
-
salt and pepper